YouTube detects any content containing our music (including Sound Design Tracks) and creates a Copyright Claim. We provide members with two automated options for clearing claims:
Register Your YouTube Channel or Get a License Code.
Receiving a claim doesn't harm your video or your account and it is not a copyright strike– it only means that the system found copyrighted material in your project.
Advertising will appear on most videos that use copyrighted music. If you are unhappy with advertising being placed on your content or would like to monetize your videos, simply use one of the solutions listed below.
Note: You will still temporarily receive a copyright claim with either of the following solutions but claims should automatically clear within 10 minutes.
The copyright owners on the claim should say "On behalf of: Lens Distortions". If you receive a copyright claim with any other owner listed, please take a screenshot and contact us.
We recommend uploading your video to YouTube as either "unlisted" or "public". If a video is first uploaded as "private", it may take up to 24 hours after the video is published as "unlisted" or "public" for claims to appear and clear. YouTube will notify you when your claim is released.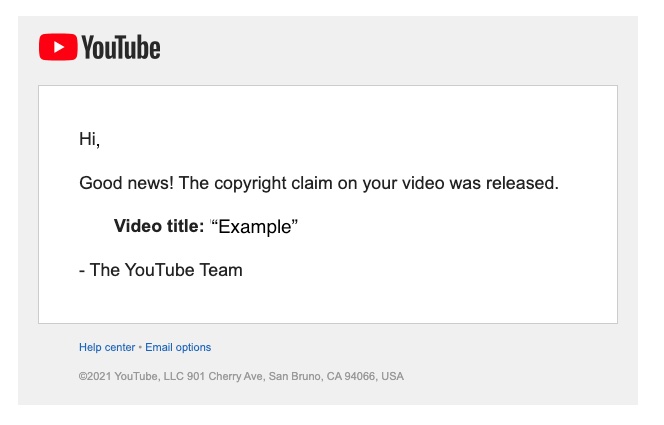 Register Your YouTube Channel
Members can register a YouTube channel to permanently clear copyright claims on any video containing Lens Distortions music. You must register your YouTube channel before uploading and have an active membership at the time of upload.
Note: You can only have one YouTube channel registered with your membership at a time.
Register Your YouTube Channel >
License Codes
You can also generate License Codes for any track. These single-use codes will clear claims for a specific song forever (on any channel), you just need to include the code(s) in your video's description when uploading to YouTube and be sure you have an active Membership at the time of upload.
This is a great solution for client projects or if you manage multiple YouTube channels.
Each track used in a project needs its own License Code. When including multiple codes in your video description, put each one on its own line:
CODE: LD-1111111111
CODE: LD-2222222
CODE: LD-33333333
Or use a single "CODE: " prefix and put them on one line separated by commas:
CODE: LD-1111111111, LD-2222222222, LD-3333333333
If you forgot to include a License Code at the time of upload, you can generate a code after the fact and dispute the claim (be sure to include the license code with your dispute.)