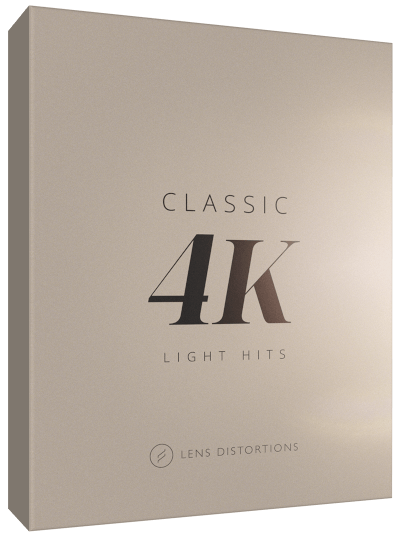 Soft, warm, natural lens flares.

What's Included?
Classic Light Hits 4K includes:
70 curated clips
5 Distinct Categories: Quick, Slow, Pan, Pulse, Subtle
4K ProRes: 16GB, 4K H264: 3.4GB
Our membership gives a single-user access to all products and songs that are currently available on our website, including all VFX libraries.
What programs are compatible?
Our VFX overlay products are encoded in ProRes, and are compatible in any non-linear editing software that allows you to change the "blend mode" of clips on your timeline to "screen." This includes, but is not limited to, programs such as:
Adobe Premiere Pro
Final Cut Pro
DaVinci Resolve
Lumafusion
NUKE
Etc.,
Avid Media Composer and iMovie do not have "blend mode" settings and are not supported.
Check with your editing software's help documentation to ensure that you have the "screen" blend mode option.
Are there tutorials?
Check out the Overview video below, as well as the in-depth tutorials at the bottom of this page.
To learn more about using our VFX and SFX products, please check out this YouTube Playlist
Classic Light Hits 4K
Trailer
See the announcement trailer.
Classic Light Hits 4K
Overview
See the powerful ways Classic Light Hits can transform your projects.
Classic Light Hits is soft, warm, and natural… the essential library of flares every filmmaker should own.
Whether you make cinematic commercials, narrative projects, or wedding films, you'll love having the ability to splash a bit of light into frame to add that extra something.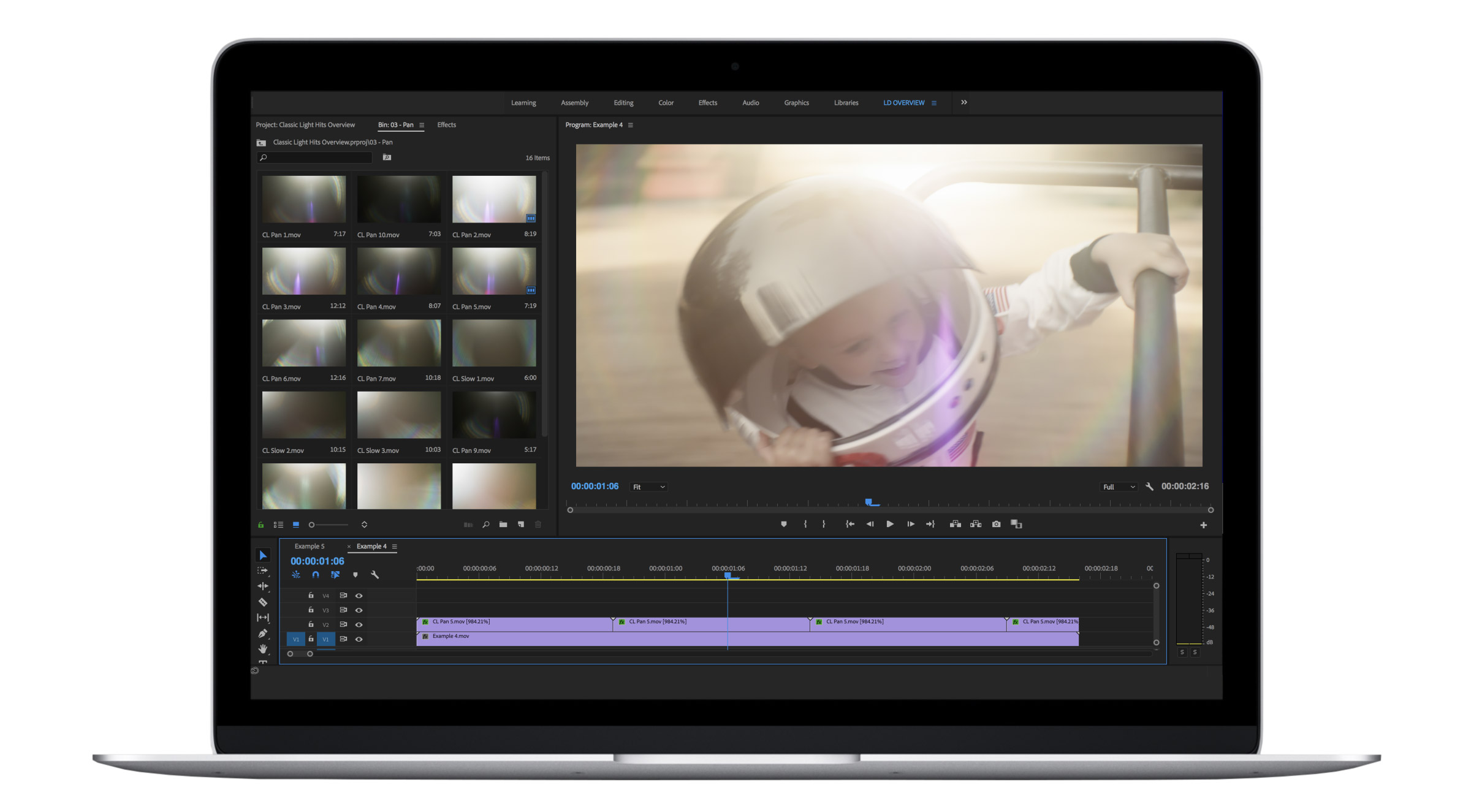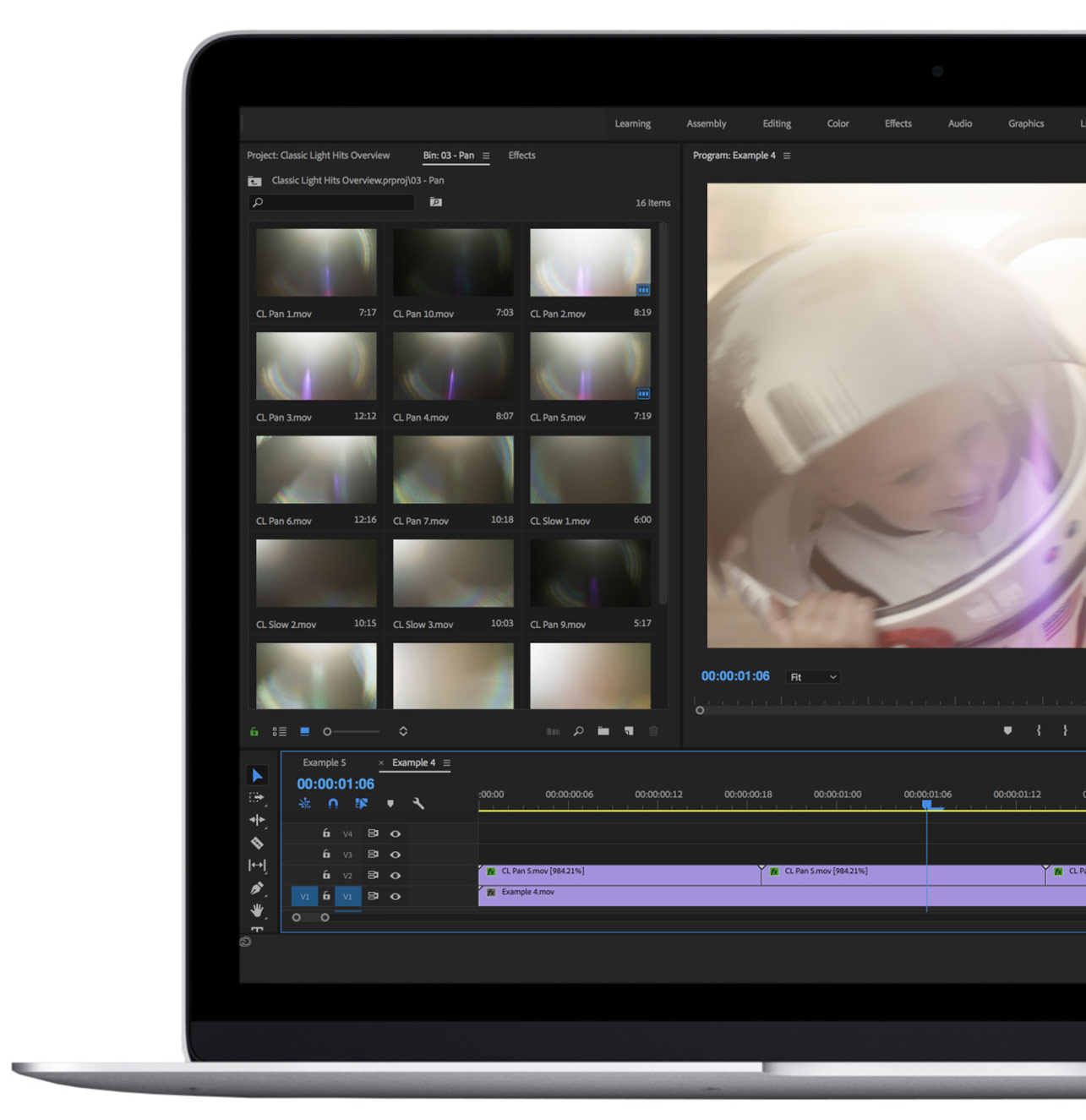 These are not your stereotypical, over-the-top lens flares. Each Light Hit is shot in-camera and designed to be subtle, with a balance between rich tones and nuanced detail.
All 70 effects in this pack are brand new and are surprisingly easy to use in a wide range of projects because of their organic movement and softness.
Tutorial:
Using Classic Light Hits in Premiere
Learn to how to tastefully edit with lens flares in Adobe Premiere.
Tutorial:
Using Classic Light Hits in Final Cut X
Learn to how to tastefully edit with lens flares in Final Cut Pro X.
5 Distinct Categories
70 Effects Total
01 Quick
Grab attention and create a sense of urgency with the clips in the Quick folder. These also work great as transition elements between cuts or speed-ramped shots.
02 Slow
With silky smooth motion, this category contains effects that linger a bit longer, giving you lots of flexibility to fade in and out, manipulate their speed, or use them to cover longer sections of video.
03 Pan
These effects are made to pair with your sweeping drone shots or fast-paced camera moves and are some of the most versatile effects in the library.
04 Pulse
Simple, slow movement of light that comes in and out, giving you just a bit more complexity than the clips in the Slow folder.
05 Subtle
Deliberately understated textures you can use to add a bit more organic character to a shot.
What's Included?
Access for a single-user* to all products and songs that are currently availabe on our website.
Our mobile app is not included. The subscription on our website and the subscription in our mobile app are entirely separate.
Browse the VFX, SFX, Color, and Photo pages to familiarize yourself with our product lineup. You can preview our entire song catalog on the Music page.
*Our Elite Membership offer the best value for teams with 5 or more people.
What programs are compatible?
Generally, all professional video editing softwares are compatible: Premiere Pro, Final Cut Pro X, Davinci Resolve, After Effects, LumaFusion, etc
Each of our product lines (VFX, SFX, Color, etc) has slightly varied compatibility, so click a link below to learn more about the specific editing software each product line is compatible with:
VFX compatibility
Color compatibility
SFX compatibility
Photoshop compatibility
Our VFX products are delivered as ProRes files, some also offer an H264 option.
SFX products and Music are provided as WAV and MP3.
Finishing LUTs are standard .cube LUT files.
Photo products are Photoshop actions + image files.
What can I do with the assets?
The membership covers social media, client work, all forms of advertising, and YouTube monetization.
TV programming, VOD (Netflix, etc), and theatrical releases require an Elite Membership.
Assets must be incorporated into a project with other footage, photographs, etc.
Example of things you cannot do include:
Share files or accounts with friends
Incorporate our assets into any sort of product
Upload music to Spotify, Apple Music, etc
Upload songs by themselves to Youtube, Facebook, etc
Use our music or sound effects as part of your own music or record vocals on our tracks
Claim ownership of any of our assets with Youtube's Content ID
Please review the full license agreement for more details.
Will I get copyright claims on Youtube?
Upload to YouTube and monetize with confidence!
We provide you with two easy methods to automatically clear copyright claims within minutes.
1) Register a YouTube channel to automatically clear copyright claims on any video containing Lens Distortions tracks. 
2) Generate License Codes for a specific project. Just include the codes in your video's description when uploading to YouTube and any claims will automatically clear within minutes. This is a great solution for client projects or if you manage multiple YouTube channels.
Videos published while your membership is active are covered forever.
Are multi-user plans available?
For small teams, simply activate a single-user membership for each person on your team.
For larger teams, consider purchasing an Elite plan, which covers multiple users and extended placements.
What happens if I cancel?
If you cancel, your membership will remain active until the end of your current subscription period and will not renew. Subscription fees are not refundable.
Any projects you publish while the subscription is active are covered forever but you will no longer have a license to use any assets moving forward and must delete all downloaded files from your computer.